London Historical Research Group
Chris Holland
LHRG Chairman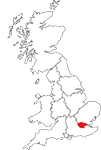 C
O

ntact Us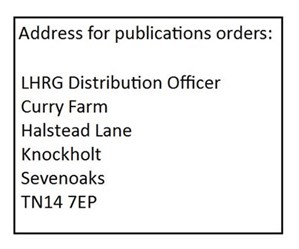 LHRG Email: lhrg@hotmail.co.uk
Research resources
Sources for researchers into London's road transport
The Bus Archive
The Bus Archive  is a registered charity dedicated to the collection and preservation of records, photographs, publications and publicity for the road passenger transport industries – bus, coach, trolleybus and tram – and make these freely available to the public for research and education.
Combining the archive resouces of the Omnibus Society and the former Kithead Trust, they have an extensive collection of material going back to Victorian times including original company minute books, vehicle manufacturers' technical drawings, timetables and publicity, full sets of Notices & Proceedings, photographs, and much more.  The London collection is held at the LT Museum store at Acton, west London; other parts of the collection are held in Droitwich and Walsall.  An online searchable catalogue is being developed.  Access arrangements are given here.
The TfL Archives
The TfL Corporate Archives is responsible for safeguarding the corporate memory of Transport for London and its predecessor companies. The Archives collects and preserves both modern and historic records from the business and holds over one hundred thousand items dating from 1556 to the present day.
It holds records which document the principal business functions and actions of Transport for London, its predecessor and subsidiary companies, and their interactions with London's citizens and with the physical and social environment.
An online searchable catalogue  is available, which can provide an initial list of files to be inspected.  The Archive is open to the public for research at their reading room in central London.  As the reading room can become booked quite far in advance, and the material is not stored on site, it is advisable to book an appointment as far in advance as possible.  Contact corporatearchives@tfl.gov.uk. 
LT Museum 
Separate from the corporate archives, the LT Museum Library holds a collection of over 15,000 books, journals and special collections covering the development of public transport in London.  Over 6,000 of the books in the library are available to search via Collections Online.  Details of locations and arrangements for visiting are here.
The Museum's photograph collection captures London's public transport history from the 1860s to the present day.  The core of the collection is the London Transport photographic archive, comprising more than 150,000 black and white photographs. There is also a smaller amount of colour material. Over 37,000 images can be viewed online. Significant events from the nineteenth century onwards are represented in the collection including the opening of new railway lines and stations, royal events and the impact of the First and Second World Wars on London. Images include places and vehicles, and the people who use and operate London's transport services.
Other museums
Crich Tramway Village have an extensive library, including the albums of Charles E Lee, one of the OS's founders.
On the web
Vehicle information 
Ian's Bus Stop 
Ian Smith's site containing vehicle type details and histories, 1920s to 2000s  
RLH Information Centre 
Timebus's RLH site - vehicles and routes
LT Service Vehicles 1930-current
Tom Young's site detailing support vehicles for London's bus and rail operations 
Historical route information 
London Bus Routes 1934-current 
Ian Armstrong's bus route histories including allocations
Red-RF 
Peter Osborn's site for LT red single-deck routes (1934 to the end of RF operation) and notes and crew recollections on LT operations
London Bus Timetable Graveyard
London bus timetables from 2000, plus a few historical items, together with time schedules (working timetables)
Current routes 
London Bus Routes 
Robert Munster's site, containing current route timetables and operational details, together with route histories for selected routes
Live London Bus Map
Map showing live bus locations by route
TfL spider maps
TfL no longer offers bus maps, but does provide spider maps for a large number of locations.  Mike Harris www.busmap.co.uk produces current and historic maps.