South Wales & West
Michael Meilton
Branch Chairman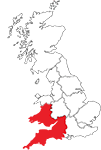 C
O

ntact Us

Our postal address - 100 Sandwell Street, Walsall, WS1 3EB
Welcome to the South Wales and West (SWW) Branch
Our branch area roughly aligns with the South Wales and Western Traffic Areas, stretching from Aberystwyth to Land's End and across to Bournemouth.
Such a wide and varied area does mean that our Bulletin, published around 9 times a year, is always packed. Each issue contains articles on current and historical operations in our area, reports on our meetings and days out, and includes any feedback received from members. The Route News section records changes from operators large and small, alternating in successive bulletins between South Wales and South West England, supplemented with relevant photographs.
Events include presentations by invited speakers, visits to operators, and route tours. Speakers give talks after the AGM and at an annual meeting with the Cardiff Transport Preservation Group, and we also join with the latter in a pre-Christmas Quiz evening. Other presentations are given on-line to allow wide participation.
For topical news items and photographs, please also visit our Facebook page: https://www.facebook.com/profile.php?id=100067804702733
Sample Bulletins
To view a recent example of one of our regular Branch Bulletins, please click here
Distribution of Printed Bulletins
SW&W Branch Bulletin no. 242 dated August - September 2023 was posted on 17th October.
SW&W Branch Bulletin no. 243 dated October 2023 was posted on 15th November.