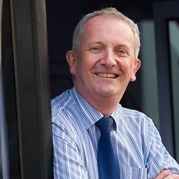 Nigel Eggleton was appointed Chairman of The Omnibus Society in June 2018.
Nigel was appointed Managing Director for the First Midlands bus operation back in 2013 with responsibility for the South Yorkshire business being added in 2020. Despite the obvious effects of Covid Nigel and his dedicated team made a significant impact in delivering a prosperous and sustainable network of operations in Leicester, Worcestershire, the Potteries and South Yorkshire.
He has spent his working life in the bus industry gaining a wealth of experience, previously holding senior positions at Transdev, Arriva and Go Ahead and in the early part of his career learning the ropes at Hunters of Seaton Delaval.
Nigel took voluntary redundancy from First in 2022 and is now leading the enthusiastic team of 130 colleagues at Nottingham Community Transport now known as CT4N.
Contact: nigel.eggleton@btopenworld.com