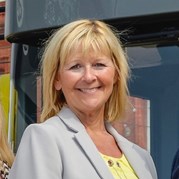 We are delighted to welcome Jane Cole FCILT. Managing Director of Blackpool Transport, as President of the Omnibus Society for 2022.
Jane has been managing director of Blackpool Transport since October 2014, having previously been Business Manager for Virgin Trains for more than 17 years.
As well as being President of the Omnibus Society she is also President of the Confederation of Passenger Transport, the Light Rail Tram Association and the North West Lancashire Chamber of Commerce. Jane was recently voted Business Woman of the Year at the Northern Enterprise Vision Awards. 
Blackpool Transport is highly regarded as a successful local authority-owned business which has been transformed in recent years with a modern bus and tram fleet. 'We have the vision at Blackpool Transport to continue to grow and develop our work in the community,' says Jane, 'and with our stakeholders to make Blackpool and the Fylde Coast a great place to live, work and visit.'
Jane's Presidential Address will now take place on Tuesday 28th June at 18.30hours.
The Presidential Weekend in Blackpool is scheduled for 30 September-3 October 2022.