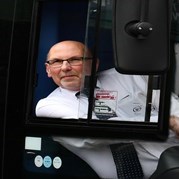 Andrew has been a member of the Omnibus Society since 1976, just before he started a career in the bus industry that lasted almost 42 years.
A lifelong bus enthusiast, his local operator in his formative and school years in the north west was always Lancashire United Transport, with whom he started his career as conductor, before progressing to driver and then into the schedules department.
After working for Greater Manchester PTE and then the Wirral Division of the Merseyside PTE in the pre-deregulation era, he moved into the private sector with Shearings, then an expanding bus operator. In 1989 he moved to the well known operator OK Motor Services, marking a move to North East England. Following the takeover of OK by Go Ahead in 1995, Andrew held senior positions in the Commercial Department at Go North East until retirement in 2019.
Andrew was first involved with the organisation of the Northern Branch at the time of the 1997 Presidential Weekend, and has been treasurer since 2004, taking on various other branch roles in recent years.
Since his retirement Andrew has rekindled his interest in photography and has started to catch up with operations elsewhere in the north of England.
Married with three children, son Richard is also in the bus industry as General Manager of Bluestar and Southern Vectis.
Contact: andrew.tyldsley@omnibus-society.org